"It's ALIVE!!!" - progress article
Hello the most faithful fans of Enidust!
"Is it really alive?"
"Guys, just give us a sign, a slightest sign of life. :( Project like this one can't just die like that..."
"Ummm... are you doing anything or did you just abandon it?"
"Enidust or is there only dust left?" -
"What's happening?"
Today is the day that you all will get your answers! Enidust project is expanding and we do NOT plan to change that. More so we didn't just sit back and watch TV this whole time, no dear reader we did not. Enidust changed quite a bit. Since you're probably curious about what happened in these past few months we want to appreciate your patience and share our progress with you. Silence and lack of information on our part wasn't the sign of end, we needed a little breather from social media informational noise and with that break we wanted to adjust to changes that happened.
"First quote should be meaningful and have ending. This one lacks–-"
~Mirosław "Ignis" Pawliczek, Designer
Activity on social media would mean additional pressure for the team. At this work stage and with lack of resources needed to make this kind of publication it was a luxury we couldn't afford. `That's why we decided to stay and work from shadows. We used this time to refine and make new content. Please take in consideration that every single person engaged in Enidust works after hours and in form of voluntary service. That's why the works were going slowly. It doesn't mean that we have nothing to show off though. We want to make you assured that Enidust and all it stands for is still alive and well.
Since the project's announcement our work evolved pretty hard. We managed to create a system that lets us systematize our actions, while not influencing our daily routine. We summarize our tasks, share our thoughts and make new goals. What came out of this evolution as we named it was distinction of teams to which every person is assigned. It starts to look like a real, organized studio and not just some random people with common goal. That's not a small feat to accomplish for people spread across the entire country.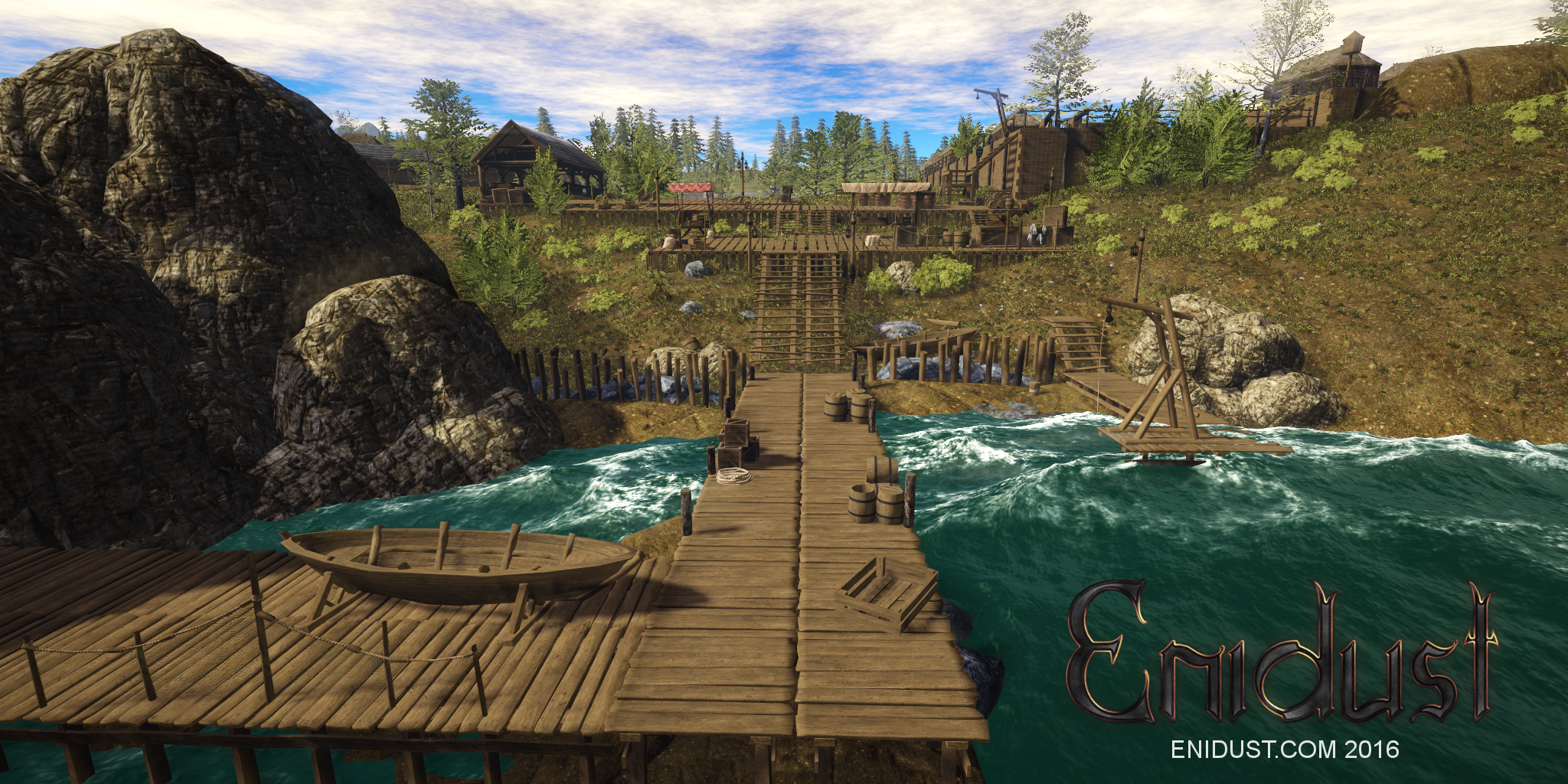 Do you remember our maxim? We make almost everything by ourselves and from scratch. It's very time consuming process, but it gives us a free hand in creation. Most time and power was invested in technological development of proprietary engine. Lucky for us we made it to the stage where it's not just an engine or map editor, but a real GAME that's developing quite lively. Some key components were already added into the engine and all they need is a bit of expansion. That's a gigantic step forward and that's because web system and communication, animations, building and crafting system, interface and physics simulation were all made. That's but a drop in the ocean of coding that we worked upon.
"Making the first step is the hardest part. It's made of many different systems that you need to implement. This takes time. However, when basics are properly realized, adding new features and extensions is much easier and faster."
~Mateusz "Matiis" Kulik, Lead Engine Programmer
Fast engine development made it so that everything that we made upon now has become real. It means we see how much effort lies ahead of us. Our work isn't just a mash up of assets anymore. It's a new living and still shaping world.
Environment of our realm changed so much you would never guess. When we took part in PGA 2014 there were two villages made out of similar objects, lots of randomly placed trees and few smaller locations. At that time we had to depend solely on our creativity to show as much of this interesting world as possible and we did it with only 300 models at our disposal. Now we can use over 2000 objects.
"The difference is real when you don't have to make a platform construction out of stable's roof, some rocks and barrels anymore."
~Dawid "Dawro" Mroczkowski, Designer
Currently we posses a lot more possibilities. Carefully detailed villages, enriched with various wildlife forests and first cave complexes have been created. Obviously, development was possible not only due to our graphics work on creating new objects, but also our map designers had their huge impact on this process. They spent a lot of time (I mean, a LOT of time, trust me, I have experienced it myself) using complicated and hard to operate tool to place objects. Despite the circumstances this tool was significantly upgraded which made it possible to automatize a lot of its aspects. Our team could steadily swap from tedious one by one tree placement to creating a lot more detailed locations in a shorter time span.
"Despite restrictions that online game is giving, we try to make the player feel like he's in actual forest."
~Michał "Misiekgrizli" Malatyński, Lead Mapper
Speed of world creation increased as much as quality of it. It's really satisfying to see how the world grows. Work that we put into it finally yield visible results and that motivates us even more! Considerable amount of our attention is currently placed on building system. We have created module based system that will not only allow vast customization of buildings so that they suit your taste, but also will make building process fast and efficient.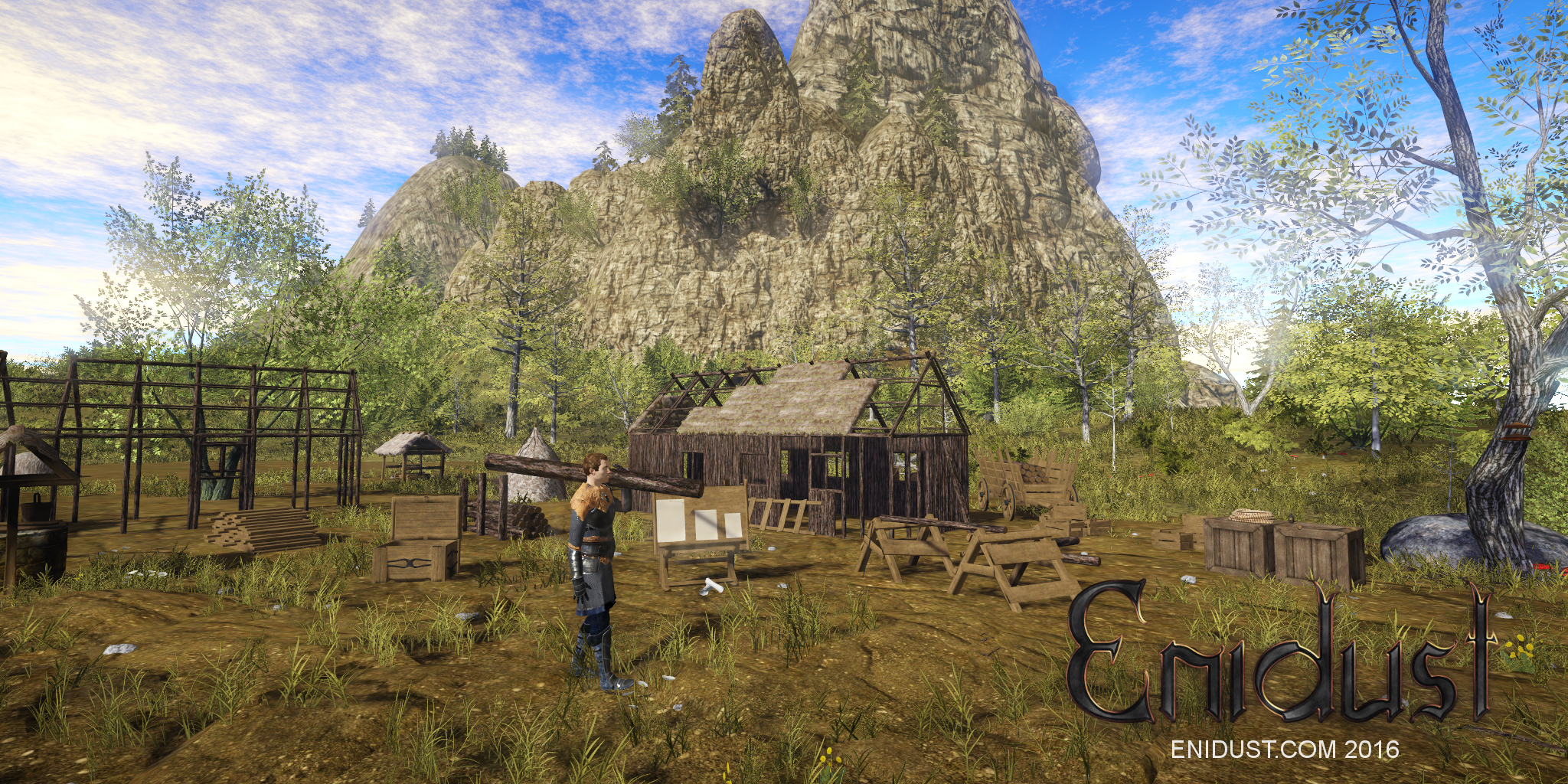 Improvement of tools available in engine influenced greatly on the game design itself. Finally it's possible to create world in a way reflecting our ideas. Till now filling space that we had to manage was more important. Lots and lots of things couldn't be made as the tools weren't allowing it or corresponding items were missing. Despite creative space management and ideas for a location it's potential couldn't be fully achieved. Creating unique and detailed villages that have their own feel which are more than just a bunch of the same objects became possible. Therefore fishing village is completely different from a mountain borough. City outskirts are surrounded by farms and every single one of those has additional fields placed nearby. Diverse, full and consistent locations are appearing.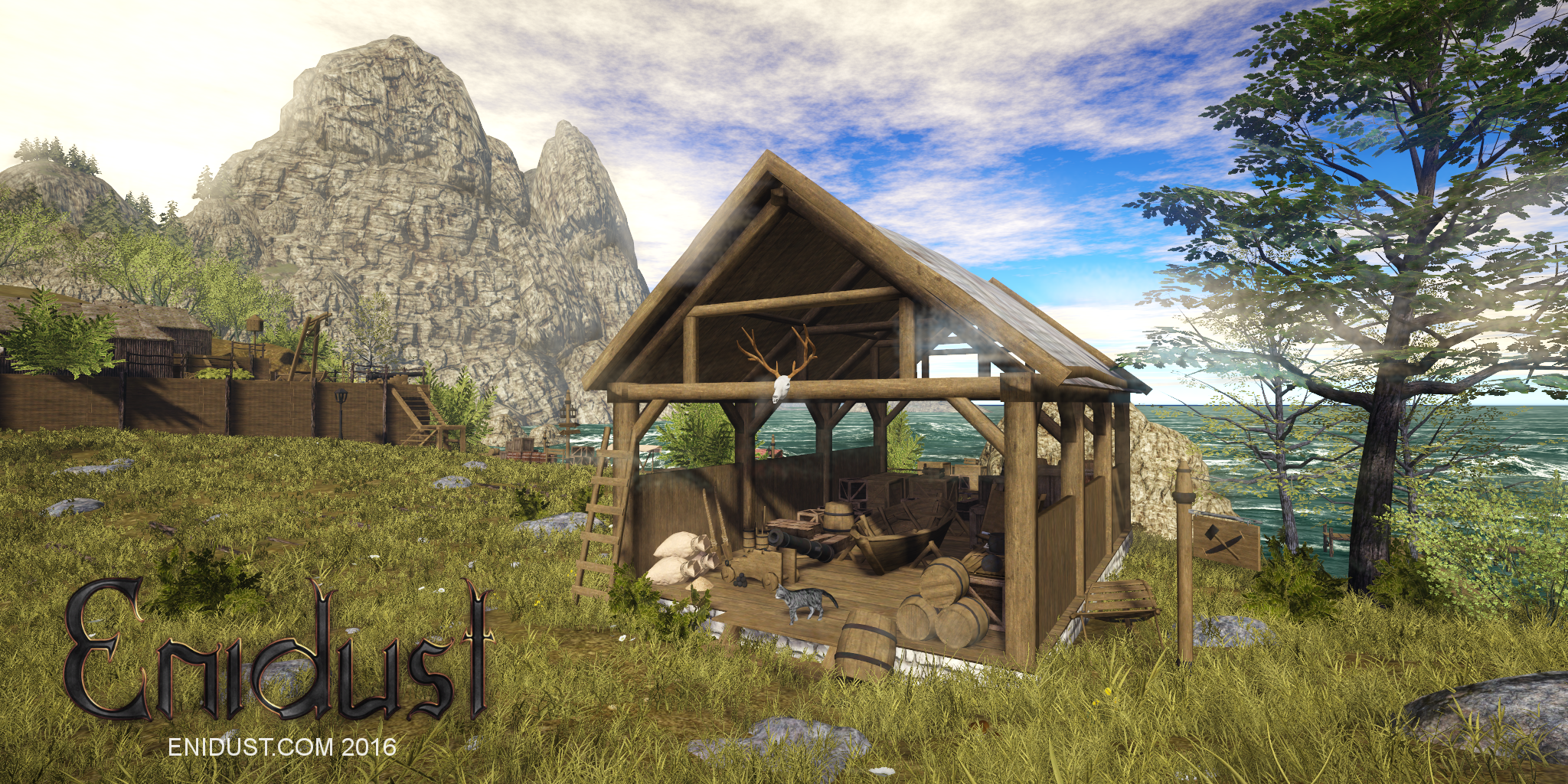 It takes only a little bit more to breathe life into Enidust's world. Despite very limited contact from us game has been constantly developing. The amount of work, changes and our career were the reasons why you didn't hear anything from us for a long time.
We'll try to change that and inform you more often whenever it's possible. Enidust takes shapes and we have enough content that's worth showing. We'll surely brag with it some more. Till next time!
"Why there is no quote of mine? Maybe I would like to say something important as well?"
~Robert "Kulok" Redliński, Lead Graphic Designer
In the name of whole team I want to thank you all for being with us.
Dawid "Dawro" Mroczkowski
PS:
Bonus soundtrack