About us
Free to play
Dynamic, expanding world
Essential influence of the players on the universum
Realism of the in-game world
No class system
Crafting and building mode
Cooperation oriented
Free to play
When the game is complete, it is going to be free for everyone, no payments - it's one of the first principles set by Manufractal. We want everyone to be able to play Enidust without any restrictions or dillemas where should they spend their funds; this game will be an entertainment for many people, not another subscription fee MMO.

Naturally, there will be an option to support the developers through micropayments and e-services, but nothing that was bought with real currency can influence on the balance of the game. Enidust will never be on the slipper slope towards pay to win.
Dynamic, expanding world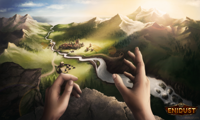 Along with community development, new settlements and even towns will be established.
The Enidust universe will expand to the point where whole globe in the game shall be filled. For the whole time, the team will care so that no spot of the globe would breathe air of emptiness caused by the fact of being forgotten.

We shall make every effort to make sure that you will not experience stagnation but expect all sorts of events which may change the face of the world. It may be a feud on particular area or riots in a city. You may as well be witnesses (or participants) of war, cataclysm or even events which will change game mechanics in the world.
Essential influence of the players on the universum
As mentioned before, the world is not supposed to be exposed to stagnation, not only thanks to our actions but also thanks to players. We want to create a universe, in which results of our actions may be sensed. The simplest example is possibility to break a war even between world superpowers.

Open world also results in the players' possibility to overthrow current order of all things and insurrect new one - only if they try hard enough.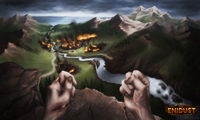 Nothing is eternal. Players can destroy whatever they've created.
Realism of the in-game world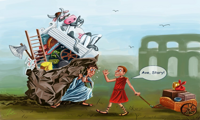 In a realistic world, a maximum lifting capacity is necessary.
There is magic in Enidust but it does not exclude realism. Players' characters will have various limits which make the game greatly remind of playing with a real character, not a demigod - for example maximum load capacity and established backpack volume.

There will be a cause and effect sequence in the game. It might sound a little mysterious but it simply means that a player has to bear in mind the results of his actions, both short- and long-term.
No class system
Old good class system, with all its advantages, has one fundamental drawback which is its limitation in terms of personalization of a character. In Enidust character development consists of choosing only those feats and attributes which we really want. We toss aways artifical limits such as inability of a mage character to wield a bow.

Naturally, some skills will have some requirements. However, they will be more logical - for example: it is impossible for a character that does not know runic language to possess a skill of rune writing.
Crafting and building mode
Everyone loves to create and have an influence on the surrounding. In Enidust we have a broad spectrum of it - there will be an extensive crafting and building mode at players' disposal. The first one, as you can easily guess, will serve to create personal equipment or as a mean of profit, while the second one will allow us to construct even whole towns from scratch.

One of the crucial features of items crafting and larger structures in Enidust is the fact that both will require a considerable amount of player's contribution. One mouse click will be enough to at most begin the process. Larger amount of time and attention will be required in order to finish the job.
Cooperation oriented
Originally, Enidust is supposed to be an MMO. It means that it is not supposed to be multiplayer with single players. The universe is planned in such a way, that players will be spurred into cooperation (and group competition) in various fields. And so when it comes to time that some processes require or risks that await a hero beyond borders of civilized areas, acting alone will be at least burdensome or risky.

In addition to that, there will be also some situations in the game, in which cooperation will be a must. We won't be able to build a town or carry out broadly conceived events alone.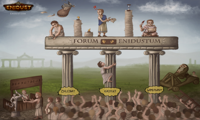 Only the most persistant one will be able to make a name for himself alone.